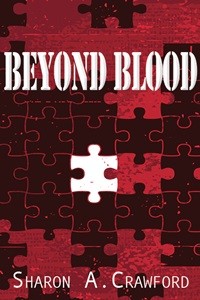 Dana Bowman has misgivings about starting the home-based Attic Investigative Agency with her fraternal twin, Bast Overture. Especially when the agency's launch is preceded by a break and enter downstairs and a kidnapping at the Mini-Mall involving her son David's babysitter, Debbie Sangwell. Especially when David is kidnapped and Debbie is murdered during the agency's opening ceremonies.
Dana is pushed beyond blood ties in trying to avoid an emotional meltdown as a mother and focus on finding her son. The twin detectives discover that everything seems to be connected somehow. Which connection will lead them to David, and to Debbie's murderer? Will they be too late for David? Hovering in the background is the mysterious "Him" in this fast-paced story which takes place during eight days in August 1998.
Smart and spunky, Bowman is a character every reader can relate to. Beyond Blood is a page-turner.
Rosemary McCracken, author of the Pat Tierney mysteries,
Safe Harbor and Black Water
Publisher Blue Denim Press
Available at Amazon
Sharon A. Crawford Author Blog
Crime Writers of Canada Sharon's Mystery Writer Bio
Sharon A's Interviews
Listen to Sharon A. talk about Beyond Blood on Northumberland 89.7 FM
See and hear Sharon A. being interviewed on the Liquid Lunch
Sharon A's Book Reviews
Goodreads by mystery/suspense/romance author Rene Natan
Goodreads by literary fiction author Christopher Canniff
Christopher also posted a review on Amazon and Chapters/Indigo
Blue Denim Press Presents Blue Murder – Book Launch at Paintbox Bistro, Oct. 19, 2014 roaring success
Sharon's Blog post about it
Rosemary McCracken's  Blog post about it
Sharon A's Gigs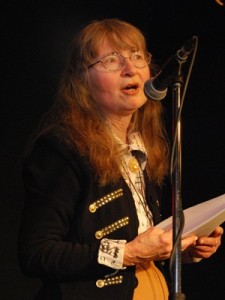 Sharon A. Crawford is available as a guest speaker to talk about crime writing.
Topics include:
Creating Crime between the (Book) Covers
Can you get away with murder, fraud, kidnapping and other heinous crimes? Yes, if you do it between the (book) covers and it is fiction. Join mystery author Sharon A. Crawford as she relates how the characters in her Beyond mystery books "commit" crimes and solve them too. Sharon will reveal where her story ideas originate and how she develops them with her characters and plots in Beyond the Tripping Point (Blue Denim Press, 2012) and Beyond Blood (Blue Denim Press, 2014).
And as Dana Bowman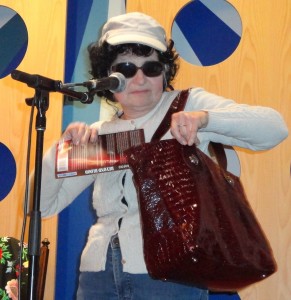 You never know when Dana Bowman will appear instead of Sharon. Dana is a PI and likes to stick her nose into Sharon's business
Dana Bowman is available to do short and long skits about her life between the Beyond books covers. She is noted for dissing Sharon – when she can get away with it.
To talk to Sharon  about these and other "criminal" presentations, email her at at words@samcraw.com
Sharon A.'s Upcoming 2017 Gigs
Beyond books at Word on the Street
Sunday, Sept. 24, 2017
4 p.m. to 5 p.m.
Sharon will bring the first two Beyond books in the series – Beyond the Tripping Point and Beyond Blood to the Sisters in Crime Toronto booth at the annual Words on the Street. Information will be available about the new Beyond book – Beyond Faith– and rumour has it that Dana Bowman may make an appearance at the SinC table.
Location:
Harbourfront Centre
235 Queens Quay West, Toronto, Ontario, Canada
Bouchercon World Mystery Conference
Wednesday October 12 to Sunday, October 15, 2017
Sharon A. is attending the annual Bouchercon Mystery Writers conference October 12 to October 15 in downtown Toronto.  And here is the conference website which is constantly being updated.  Sharon plans to introduce Beyond Faith at the conference with a little help from Ms. Dana Bowman, PI.

Location:
Sheraton Centre Toronto Hotel
123 Queen St. West, Toronto, Ontario, Canada
Author Presentation
Thursday, Oct. 12, 2017
5 p.m. to 5.20 p.m.
More details including location at the conference coming soon.
Tea with the Librarians
Friday, October 13, 2.30 p.m. to 4.30 p.m.
Sharon will attend this tea where  authors of crime (between the book covers) join some of their avid readers and book advocates – librarians. two authors will sit at each table with six librarians. Sharon doesn't know who the other author at her table is, but she is going to make sure that Dana Bowman does not show up. After all it is Friday the 13th and Sharon will have enough trouble trying not to spill her tea.
More details including location at the conference coming soon.
Sharon A. is guest speaker at WEN Networking Breakfast
Saturday, October 21, 2017
Sharon's guest speaking gig  at the Writers and Editors Network (WEN) Breakfast meeting has been moved to October 21, 2017.
After breakfast, Sharon will talk about Creating Characters and Dialogue in Fiction using her short story collection Beyond the Tripping Point. She will also have copies of Beyond Blood and Beyond the Tripping Point and perhaps the new kid on the block – Beyond Faith – to sell.
Location:
Canadiana Restaurant
5230 Dundas St W, Etobicoke (Toronto west end), Ontario, Canada
Time and Date:
9 a.m. to 11.30 a.m.
Creating Compelling Characters in Fiction
Sunday, November 5, 2017
Sharon A. is guest speaker at the Toronto Writers' Group meeting. She will present an interactive workshop on Creating Compelling Characters in Fiction.
And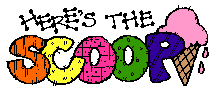 It is rumoured that Sharon will have copies of her third Beyond mystery book – Beyond Faith – to show and sell.  And of course copies of Beyond the Tripping Point and Beyond Blood.
Stay tuned.
Location:
Toronto Reference Library, (Discussion Room, 3rd. Floor)
789 Yonge St., Toronto, Ontario, Canada
Time and Date
2 p.m., Sunday, November 5, 2017
More gigs in the works. Stay tuned