If you cannot get rid of the family skeleton, you may as well make it dance.
– George Bernard Shaw
THIS PAGE IS CURRENTLY BEING UPDATED

From the moment Dana Bowman sees the redheaded nun arguing with a man on Main St. and Bast Overture receives an email from Eli Foster asking him to find her birth parents, the twin PIs are thrust into a complex chain of events involving extortion, stalking, fire, vandalism, secret adoptions, a bank robbery, assault, and murders – past and present.
The nun, Sister Margaret Olsen, is suspected of pushing her younger brother, Larry, into traffic, killing him. Detective Sergeant Donald Fielding asks the twins to do an independent background check on her. When she arrives at the Attic Investigative Agency, Dana recognizes her as the teacher who assaulted her as a child. Now the nun is a staff writer for The Catholic Monitor.
Dana and Fielding continue to skirt around their growing attraction. Fielding's new partner, Detective Claire Simpson and Dana clash over Fielding and over Simpson's dog, Buddy, who has bonded with David Bowman. David, now 7, continues to work his way through the aftermath of his kidnapping last year. Bast has a new boyfriend, Zeb Charters, whom Dana instantly dislikes. Eli Foster gives the twins mixed information and is seen lurking outside The Monitor after Father Browne, the publisher, is attacked and the offices vandalized. Hovering in the background throughout the twists and turns is the nameless woman fixated on killing with an axe.
Then Dana is attacked. Suffering the after-effects of concussion, Dana struggles to remember what actually did happen and tries to get her personal and work life back to normal. However, bad decisions and bad memory might just get her killed.
Beyond Faith offers secrets, lies and death with a connection to the Catholic Church, set in small-town and big-city Ontario. It's a great story with a great pair of unlikely protagonists (a brother-sister pair of twin investigators), twists, surprises and Sharon Crawford's distinctive tone and shining dialogue. Recommended for any detective-story fans yearning for Ontario-based tales.
– Nate Hendley, true-crime author (Steven Truscott: Decades of Injustice and The Big Con)
A powerful, haunting novel that turns the domestic life of a detective family into a deadly game of hide-and-seek, laying bare the dark heart of fear and the complexities of family bonds.
-Bianca Lakoseljac, author of Stone Woman and Summer of the Dancing Bear.
Publisher Blue Denim Press
Sharon A. Crawford Author Blog
Available at amazon.com and amazon.ca
E-copies also available at both.
Who wrote the book of Beyond Faith?
Sharon A. Crawford has the byline on the book cover, so she wrote Beyond Faith. Right?
PI Dana Bowman, the book's main character claims she wrote Beyond Faith.
Or maybe they wrote it together. Consider the two women.
Dana Bowman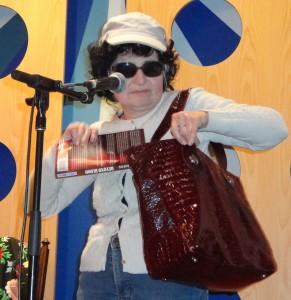 pushing 40, 4'11", short black hair, 20-20 vision, one-half of a PI duo with her gay fraternal twin Bast Overture, co-owner of The Attic Detective Agency in Thurston, just north of Toronto, Ontario, divorced, one son, David, age 7, background as a freelance investigator for the Canada-wide Orley and Lawrence Investigations and former undercover mall security guard, artist. Short, smart and sassy, stubborn and sticks her nose in other's business. Draws character sketches when conducting interviews, works from intuition and by the seat of her pants, gets around by car. Dislikes: cooking, criminals, her ex-husband and all his family.  Likes: challenges, family (excluding the aforementioned exes), and a particular Detective Sergeant Donald Fielding, head of Major Crimes for Cooks Regional Police. Peculiarity: carrying her life around in a big bag. Scariest moment in Beyond Faith: almost losing her mind from the after effects of a concussion. Saving Grace achievement: finding the missing – person, clue, information, whatever it takes to bring the baddies – stalkers, blackmailers, vandals, fraudsters, attackers and murderers, and especially a crazy nun – to justice.
Sharon A. Crawford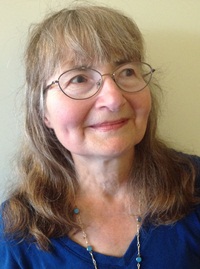 pushing way beyond 40, 5', long brown-grey-white hair, nearsighted, astigmatic, presbyopic, 100 per cent me, myself and I, freelance writer, editor, writing instructor, and sometime actor in Toronto, Ontario, divorced, one son, Martin, just turned 41, background as a freelance journalist for the Toronto Star, Globe and Mail, cbc.ca, and community newspapers in York Region, former secretary for Toronto Police Service and proofreader for Canada Law Book Publishing. Short, smart, sassy, stubborn, and sticks her nose in other's business. Can't draw to save her life, but takes copious notes when conducting interviews or doing research, works from intuition, seat of her pants, and lists. Gets around on foot, by public transit or bumming rides. Dislikes: housecleaning, criminals, extreme weather. Likes: challenges, family (including her ex-husband's family), cooking, gardening, reading, walking, The Weather Network and close friends – women and men. Peculiarity: Carrying her life in a number of bags. Scariest moment with Beyond Faith – meeting her publisher's deadlines, especially with eight revisions. Saving Grace achievement: meeting her publisher's deadlines and finishing Beyond Faith, the third Beyond mystery, and bringing the baddies – stalkers, blackmailers, vandals, fraudsters, attackers and murderers, and especially a crazy nun – to justice
2020

Gigs with Sharon A. Crawford and the Beyond Gang… and more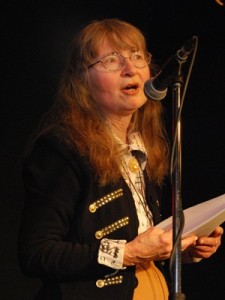 First Gig of 2020:
Toronto Sisters in Crime Presented Author Readings
Thursday, January 16, 2020, 7 p.m. to 9 p.m.
Location:
Toronto Northern District Library (Room 200),
40 Orchardview Blvd.

,

Toronto

, Ontario, Canada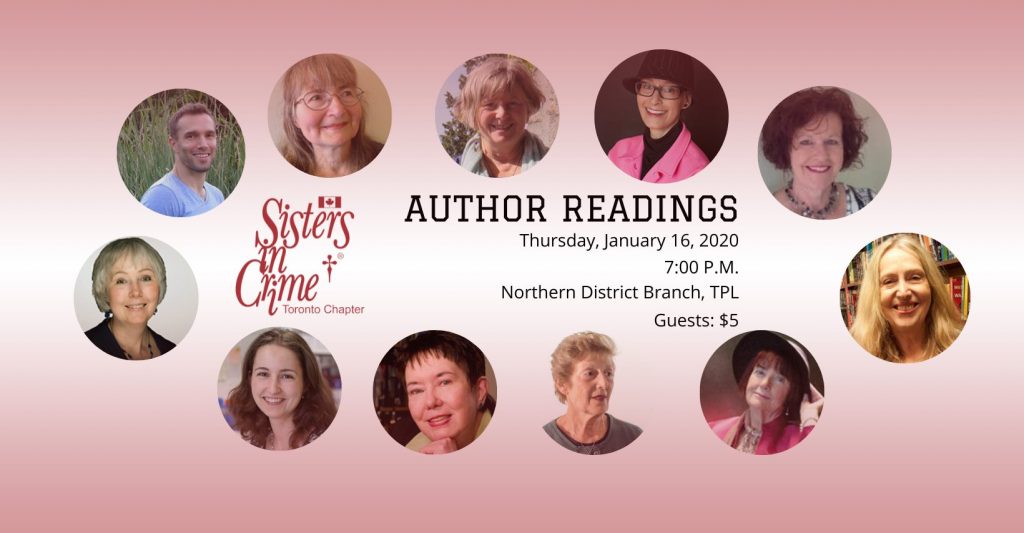 The above authors strutted our "ciminal" stuff, reading from our books at the above author readings. For the record PI Dana Bowman did not make an appearance. In fact the excerpt I read from Beyond Faith showed Dana trapped in a shallow grave. All of us had a great time reading and listening to the other readers. Lots of crime book fans also showed up.  Crime can pay by putting it between the book covers, then  sharing our stories with others.
And then in-person gigs went south as the COVID-19 pandemic took over our lives and "stay home" became the new lifestyle. PI Dana Bowman and I have moved our book events online, events such as…
Crime Beat Confidential
see the playlist for all episodes here.
Episode #7
Below is another shot of Lisa De Nikolits and me on Crime Beat Confidential, where we do what has become a regular feature on each CBConfidential episode – the guest and I hold up copies of our books at show's end. Thanks Lisa for taking the photo from the end of the show. And again, here is the link to the show to see it all – if you can get past the introductory rant of my main Beyond book character, PI Dana Bowman.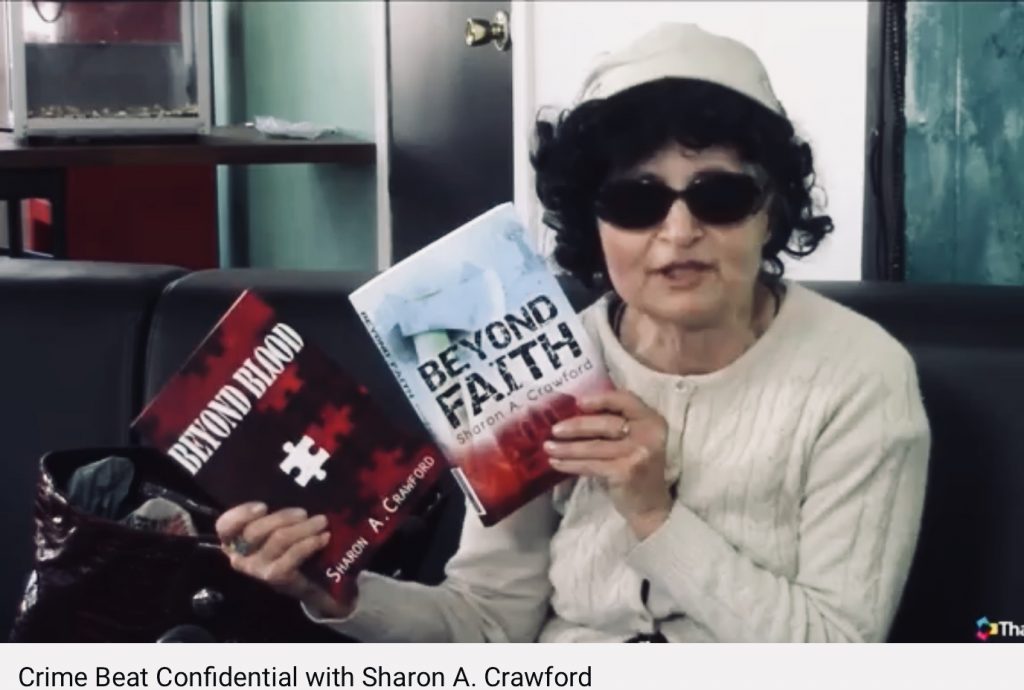 Highlights of Some 2019 Gigs
December 3, Barbara Frum Library, Toronto
"Toronto the Good?
Maybe not, according to this panel of four Crime Writers of Canada  authors: true crime writer, Nate Hendley (The Boy on the Bicycle, Five Rivers Publishing, 2018); historical crime writer, Lorna Poplak (Drop Dead: the horrible history of hanging in Canada, Dundurn Press, 2017); short story author Jim McDonald (Smash Palace Stories, Amalit Books, 2018); and author of the Beyond mystery series, Sharon A. Crawford (Beyond Faith, Blue Denim Press, 2017) Taking our stories – fiction and non-fiction  to various times and locations in Toronto, we dug deep into Toronto's underbelly. And dug up some horrific people and dastardly deeds, many going back over 100 years. In telling our stories – both from readings and summaries, and answering questions such as why we base our stories in Toronto,  we held the audience spellbound. And maybe "killed" Toronto's reputation of "Toronto the Good".
Sunday, November 24

Author Readings – Brian Henry's Workshop Alumnae
Upstairs at The Wallace Gastropub at 1954 Yonge St., Toronto, a mixed bag of us writers who at some time or another took writing workshops with Brian Henry, joined Brian for an afternoon of food (we started with lunch) and readings from our recent scribblings. We mixed and mingled, and one by one strode up to the podium and read short stories, humorous pieces, memoir and mystery.  My main Beyond mystery series character, Pi Dana Bowman didn't show up, although I warned everybody to be on the lookout for her. Probably stayed away because the excerpt I read from Beyond Faith is where she suffers a concussion.
Check out Brian Henry's Blog The Quick Brown Fox here.
Word on the Street, September 22
Not exactly as expected as most of the writers' organizations were set up at tables inside one of the buildings. Most of us exhibitors have stories to tell about difficulty finding the area of exhibition. And so did many writers and readers. But I had fun chatting with the ones who did find us and also with the other exhibitors. And sold some books. And the weather was warm and sunny. I emailed the Festival Director about the problems with the indoor setup when all other exhibitors are outside. I'm sure other exhibitors did the same. Hopefully we will be back outside in a booth next year.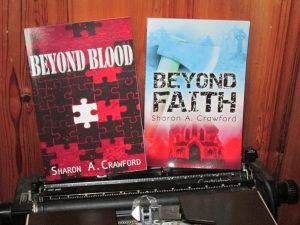 Small Presses: Guerrilla Book Marketing in the Digital Age May 29 was a big success.
We Blue Denim Press gang had lots of fun at the Small Presses: Guerrilla Marketing in a Digital Age.  Barb Nobel read a very funny short story from her book Edgy People, Michael Dyet and I in our character reading duet brought some of our quirky and dysfunctional characters to life from his novella "Slipstream" in his book Hunting Muskie and my Beyond Faith. We both had a crack reading the part of my main character PI Dana Bowman. Dana, as usual was having her conflicts with family and enemies. Then there was this strange guy Sam from Shane Joseph's Milltown who wandered onto the stage and proceeded to diss the setting and the year (2008) for the novel. He even had a few choice words for his author and as he lumbered off the stage was determined to get him for all this. He must have because a few minutes later Shane Joseph staggered onto the stage and managed to read the beginning of Milltown. We also mixed, mingled and kept going to the food table to munch on snacks even before the fun began onstage. But while we were on stage the audience was engaged. And so were we with them and with each other as we discussed how we did our guerilla marketing. And author Gail Murray our host kept us all in line. We also sold a few books in print there and some e-book sales are in the works – at least from my conversation with a few people from the audience. We will have to do this again somewhere else.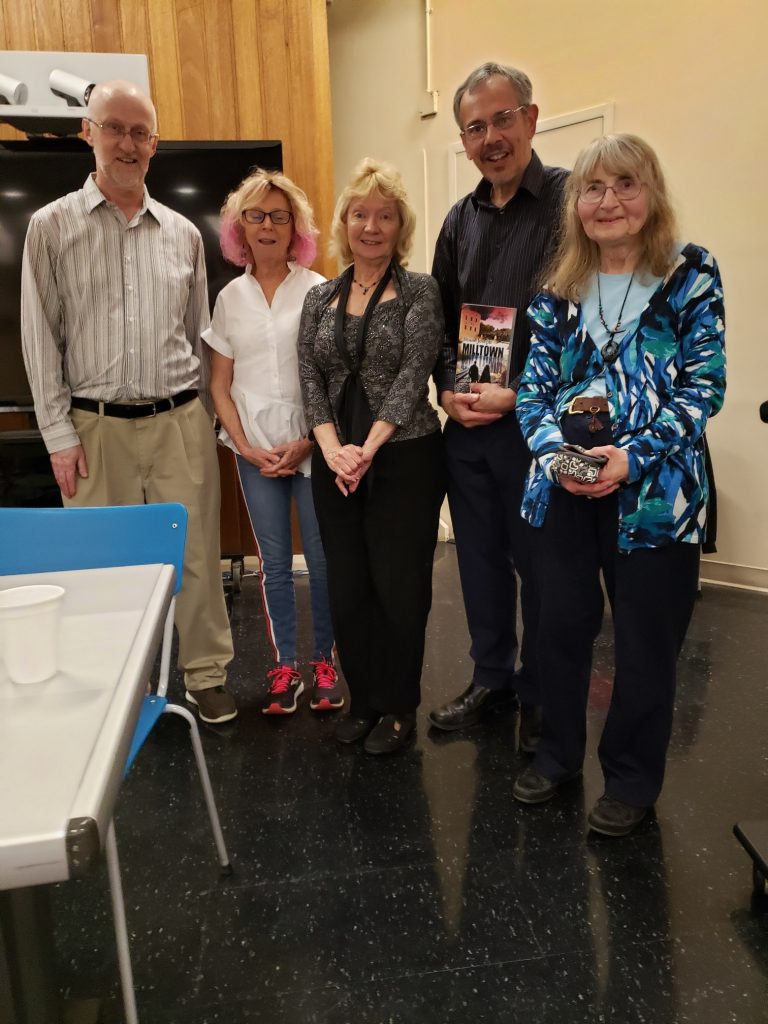 Michael Dyet, Barb Noble, Gail Murray,  Shane Joseph, Sharon Crawford
Scroll down below the Book Launch for some photos and prose of past Gigs for the first year of Beyond Faith.
But first – the TV shows, earlier episodes.
Sharon A. Crawford interviewed on Liquid Lunch about Beyond Faith here.
PI Dana Bowman not far behind.
Private Investigator Dana Bowman is on Liquid Lunch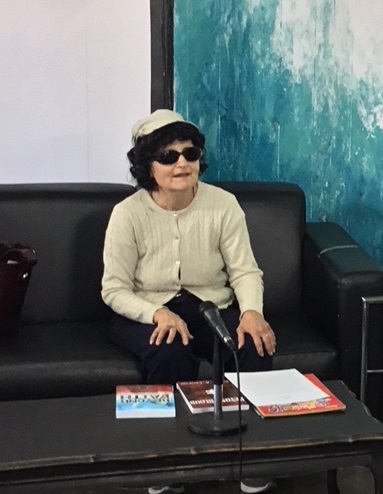 Dana made it on Liquid Lunch July 18, 2018 and was interviewed by three people – Hugh Reilly the show's host and two authors – Jen Frankel (genre fiction) and Dave Boyle (literary fiction). See the show here.
Crime Beat Confidential Debuts on thatchannel.com
Private Investigator Dana Bowman has yet again jumped out from between the book covers of Beyond Faith to share hosting duties with Sharon A. Crawford. This time it is Sharon's new TV show Crime Beat Confidential, a bi-monthly crime-interview series on thatchannel.com. Sharon will be interviewing people from many areas of mystery and crime, although as Dana says in the first segment "no murderers". First up is James Wigmore, a forensic toxicologist and the author of Wigmore on Alcohol and Wigmore on Cannabis. As the book titles suggest, that's what is delved into on this segment of Crime Beat Confidential here.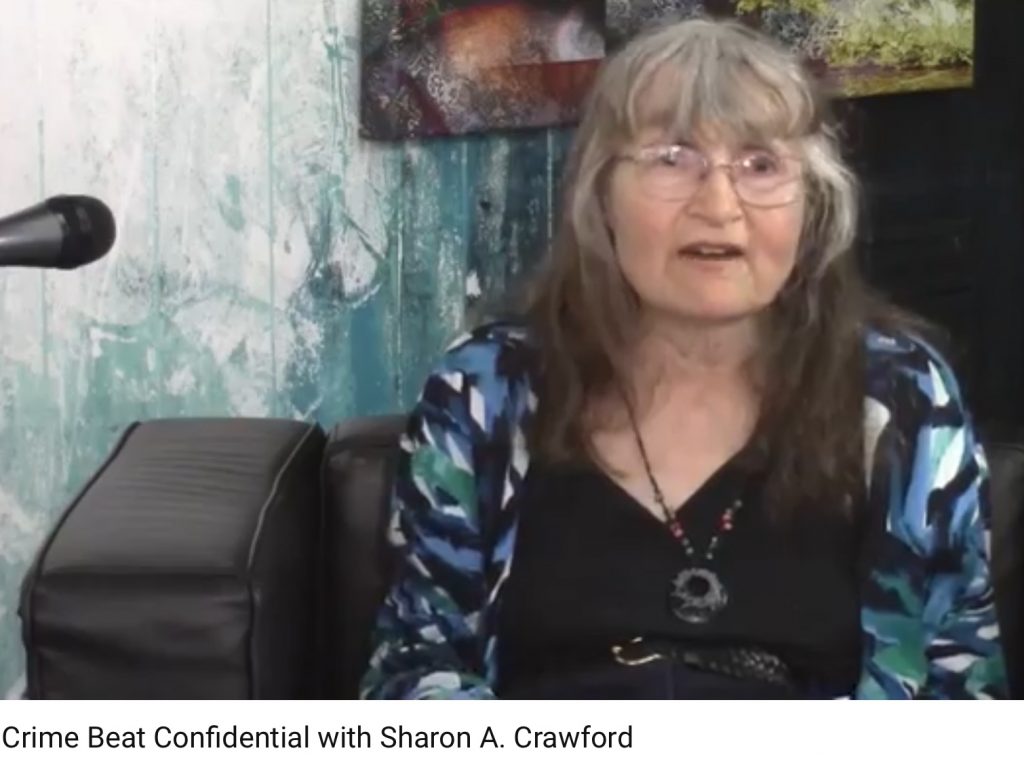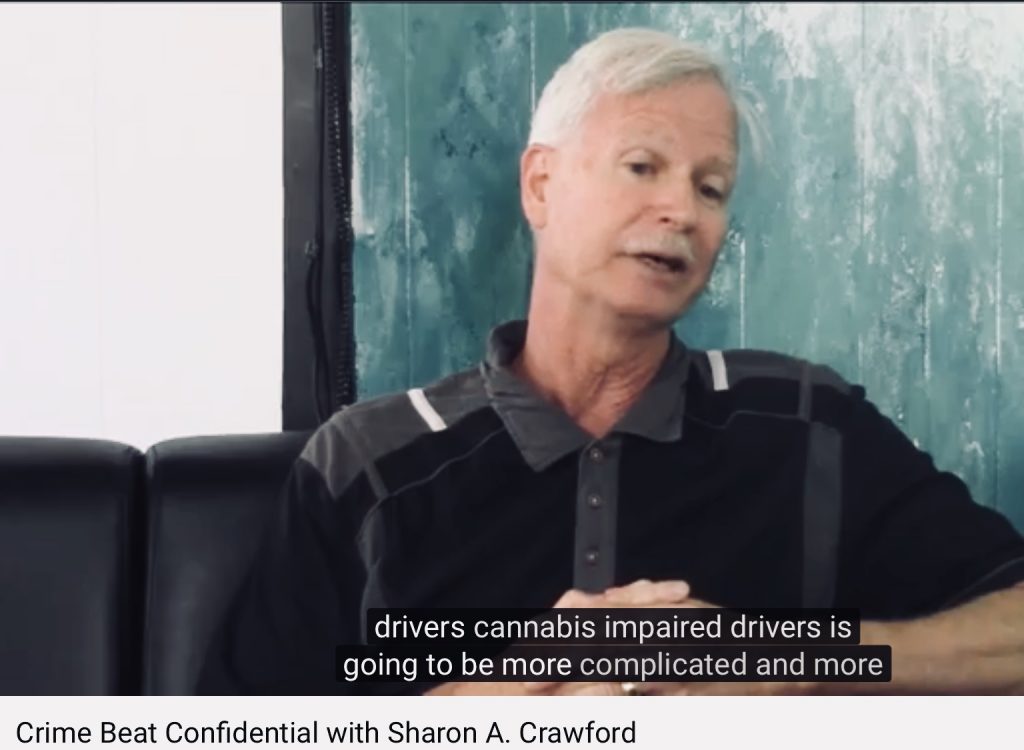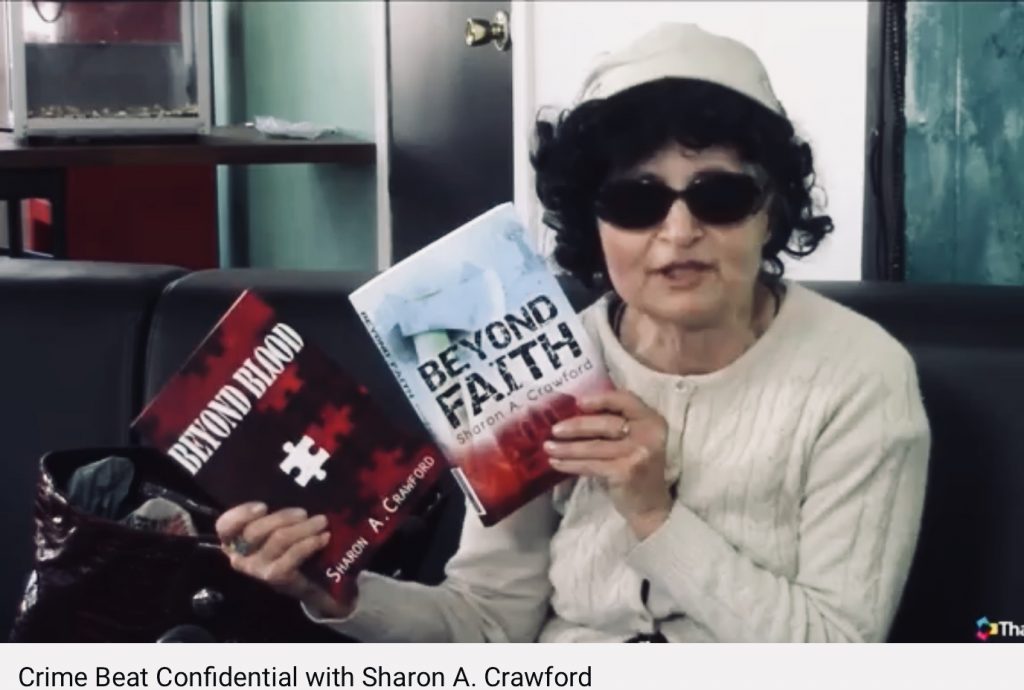 And Dana and Sharon are back on Episode #2 of Crime Beat Confidential
With guest Nate Hendley, true crime author, latest book The Boy on the Bicycle

See the video here.

In Crime Beat Confidential, Episode #3, PI Dana Bowman also interviews the guest, Private Investigator A.P. Cairns who is also a writer. See the show here
More Crime Beat Confidential episodes in 2019.
In Crime Beat Confidential, Episode #4, Dana Bowman does her usual introductory rant and then Sharon A. Crawford interviews Lorna Poplak about her book Drop Dead: the History of Hanging in Canada. Fascinating people – not just the murderers but the executioners and Lorna brings them to life in our discussion. See the show here
Crime Beat Confidential, Episode #5 again features PI Dana Bowman ranting a bit at the beginning. But she always mentions our guest. This time we go to another side of mystery books – bookselling. Sharon interviews Marian Misters, co-owner of Sleuth of Baker Street, the  mystery book store in Toronto. See the show here
Crime Beat Confidential Episode #6
You can also go to www.thatchannel.com – click on "shows" and then click on "Crime Beat Confidential" for a full screen show presentation list and links.
Most recent show, taped November 28, 2019 and now online is right under 2019 Gigs above. Scroll back up if you missed it.
Going back to Beyond Faith's debut.
The Book Launch Sunday, Oct. 22, 2017
We all had a lot of fun, sold some books and I reconnected with an old friend from my first job back in the "grey ages".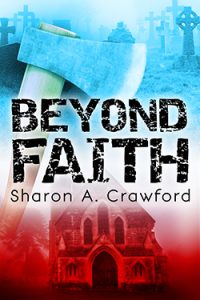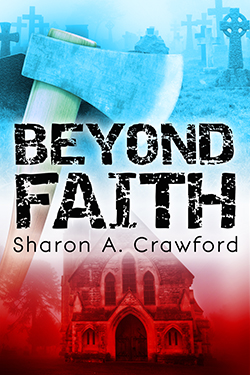 Sharon and friends at her book launch at Supermarket Restaurant and Bar
Martin Crawford photo
And…
A Kaleidoscope of 2018 Events, not necessarily in chronological order.
Muskie and Murder with The War Between Mystery Fiction and Literary returned for the Ontario Cultural weekend in Brampton, Ontario, the end of September.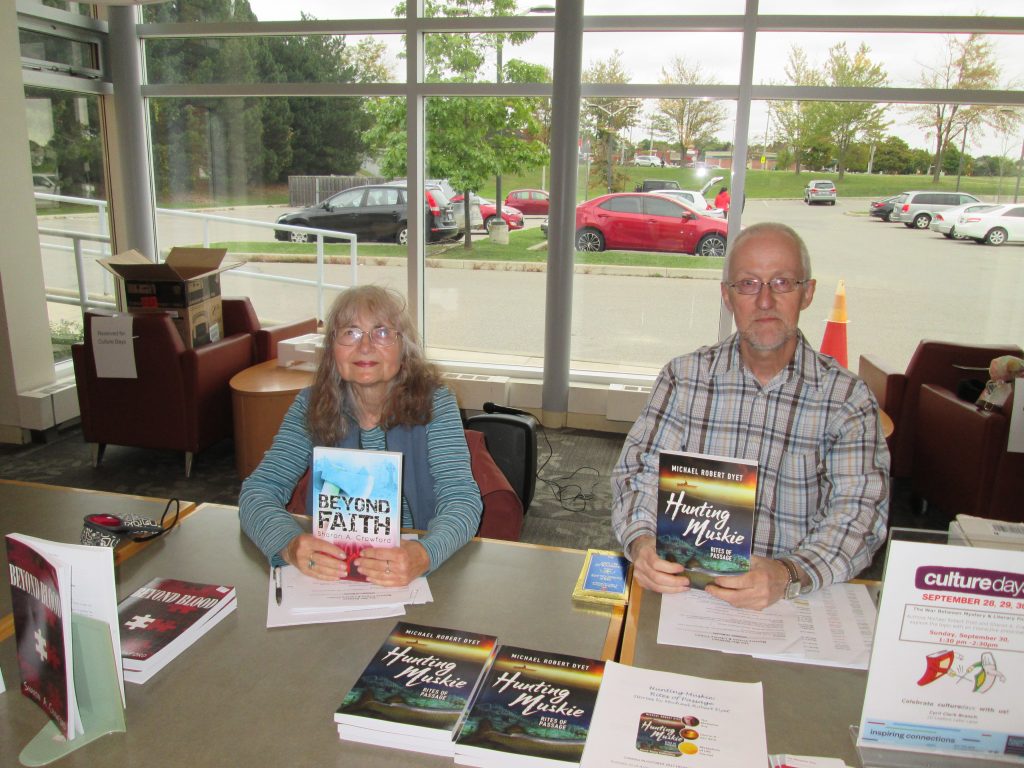 Sharon A. Crawford and Michael Robert Dyet ready to roll in Brampton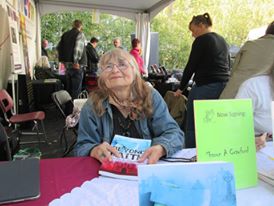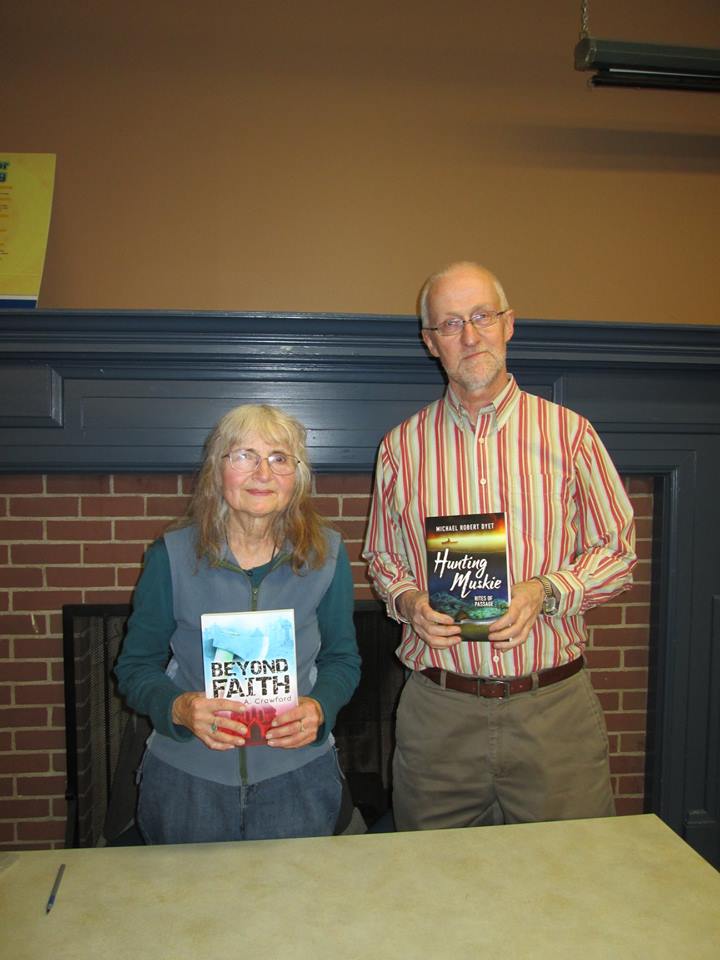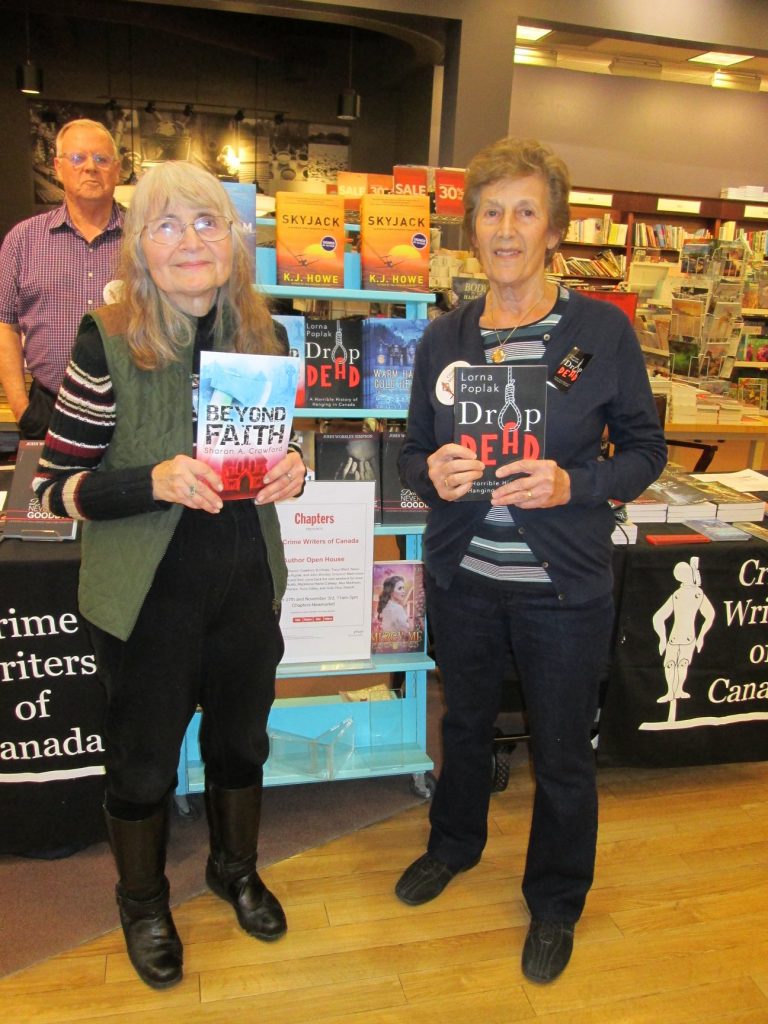 And Earlier in 2018
Muskie and Murder in full dress – East End Writers' Gtoup Presentation June 27, 2018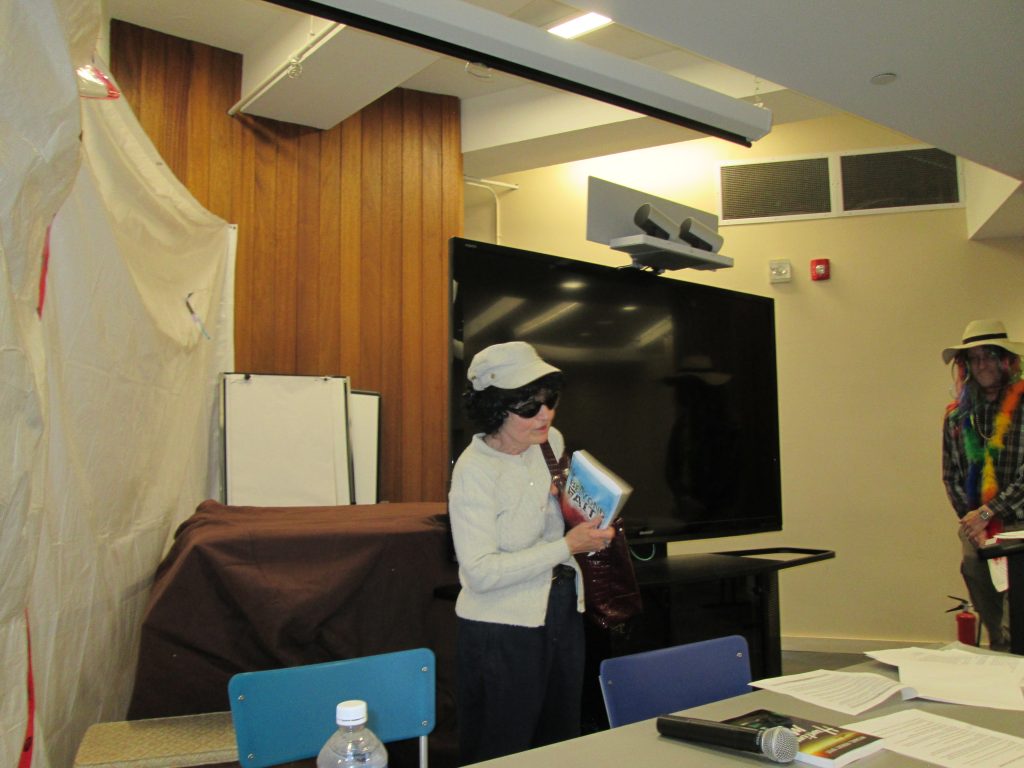 Crime Writers of Canada Arthur Ellis Short List Party held Wed., April 18, 2018 was a lot of fun, despite last-minute changes. And I was again dealing with PI Dana Bowman escaping from between the book covers. This time I was ready for her – with her mug shot which I waved around from the podium.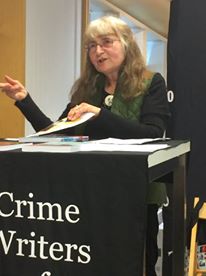 Mystery and Mayhem Writers Panel held Monday, April 23, 2018 at the Richmond Green Library in Richmond Hill, Ontario. Featuring Crime Writers of Canada authors Mel Bradshaw, Rosemary McCracken, Nanci M. Pattenden, Cynthia St-Pierre and Sharon A. Crawford. We talked about "committing" murder between the book covers and why and how we do so to a group of teenagers from nearby high schools. We critiqued some of their writing. Watch! Some up and coming writers here.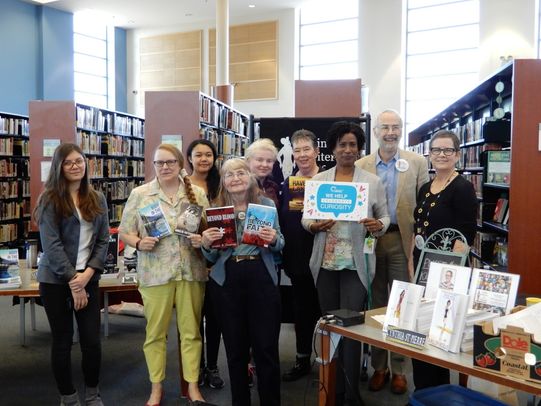 I love the poster for this event, so I'm leaving it here for a little while.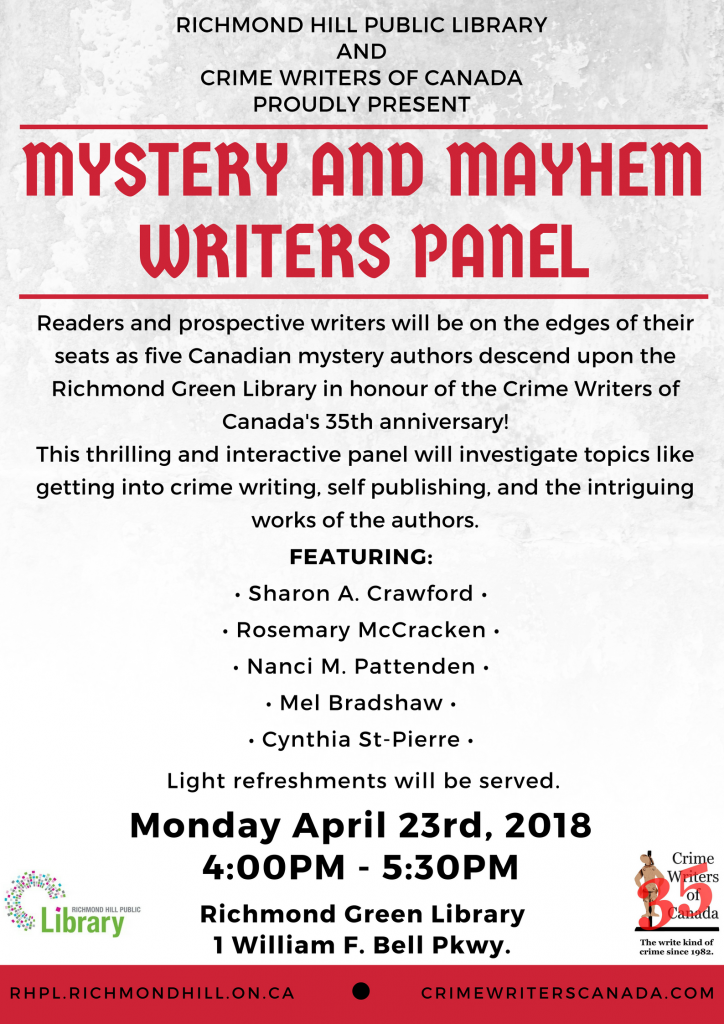 More Info: Contact: Brooke Windsor (librarian) bwindsor@rhpl.ca or Sharon A. Crawford words@samcraw.com
Dana Bowman Snuck in for the CWC Gig at OLA Conference Feb. 2, 2018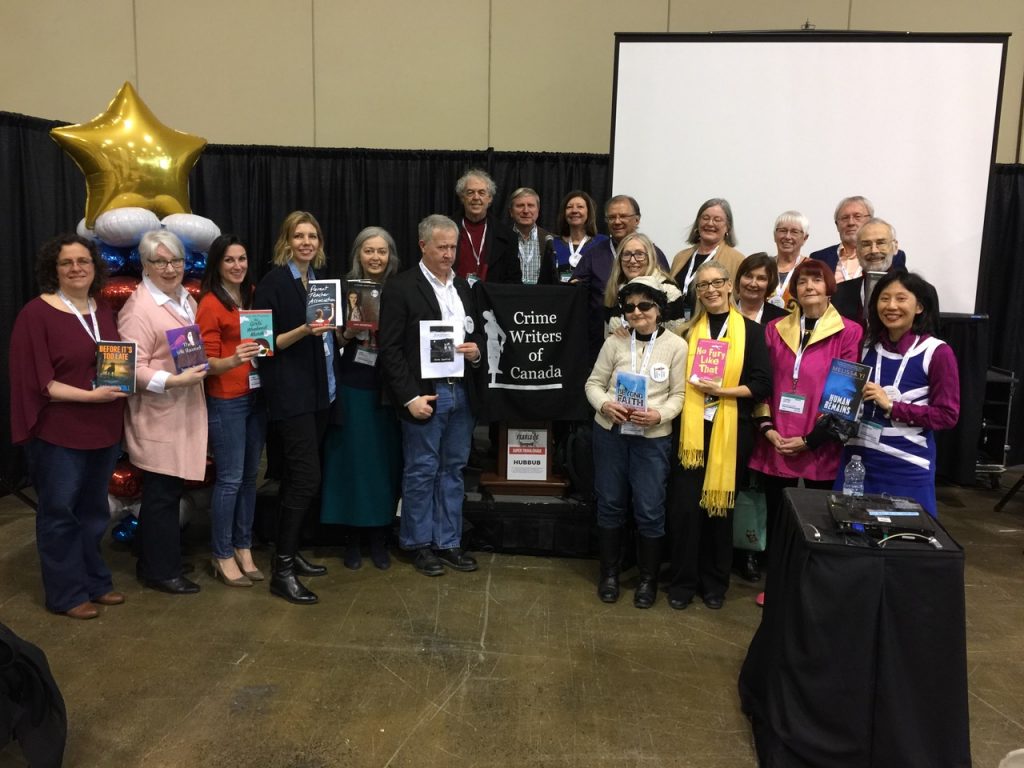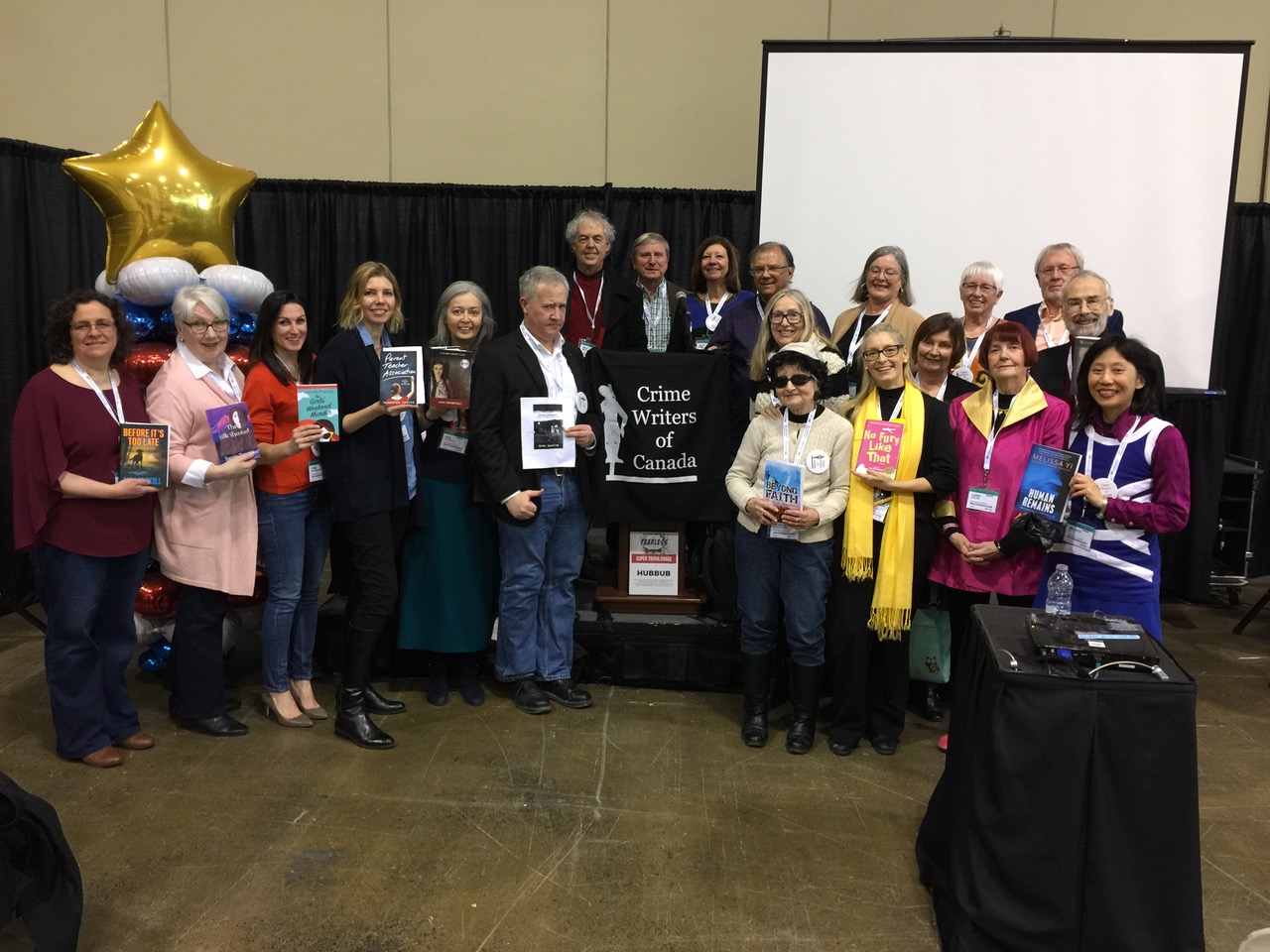 Sharon A. joined SinC Toronto readings Thursday, February 15, 2018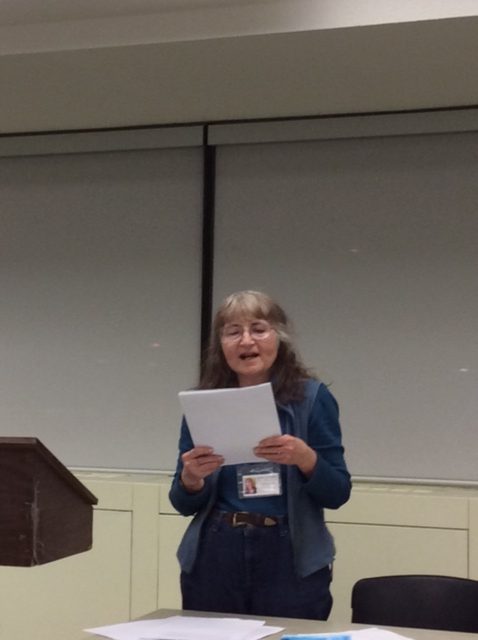 A looksee (headshots) at the 10 of us who read is on my Facebook page.
If you would like Sharon, with or without Dana Bowman, to appear at your event or location (library, pubs, cafes, writing groups, etc.) in 2019 and/or 2020, please email words@samcraw.com