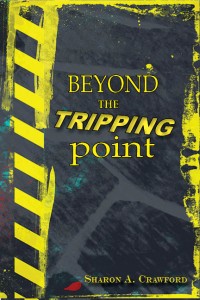 Murder, attempted murder, sexual abuse, kidnapping, missing persons, vengeance, revenge, suicide, gambling, explosions, vehicular mishaps, indignity to a dead body, even love occur in these thirteen stories. Like all life's happenings, they affect the characters–women, men and children–in their journey through life, sometimes damaging them, sometimes stalling them in limbo, but often forcing them to reach beyond the tripping point. And to get there, these quirky characters frequently do the absurd and the unthinkable, often with unexpected results.
The detectives are frenetic, the villains are diabolic, the situations bounce from hilarious to macabre, and the pace is always unrelenting in this collection by a master crafter of the genre.
Sharon A. Crawford's collection of stories Beyond the Tripping Point is a compelling and thought provoking carnival of dark tales that open a window into a gritty world of crimes.Crawford's witty writing style is crisp and savagely funny, chronicling segments of a blasted world where husbands and wives, mothers and children, sisters and brothers, psychos and sadists—with cops never too far behind—sandstorm through the potholes of life.
Bianca Lakoseljac, author of Summer of the Dancing Bear,
Guernica Editions, 2012
Publisher Blue Denim Press
Beyond the Tripping Point available in print and e-copy at retailers
Book Reviews
Mini book review appeared in The Jury Box,  Ellery Queen Mystery Magazine, May 2013.
And another  Book Review  by Don Graves appeared in The Hamilton Spectator, December 22, 2012.
Read posted book reviews
Sharon A. Crawford Amazon profile – book reviews
Sharon A's Videos
Interviews on Writers and Readers on Rogers Cable TV and Liquid Lunch on thatchannel.com and reading from Beyond the Tripping Point