PI Dana Bowman from the Beyond mysteries introduces  Sharon A. Crawford's new book The Enemies Within Us – a Memoir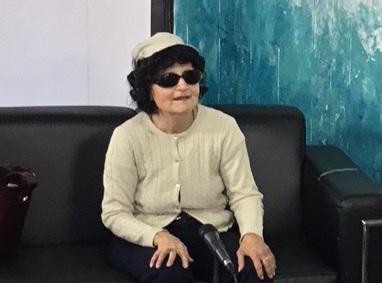 Sharon wrote a memoir about her childhood back in the grey ages – 1950s and 1960s. Blue Denim Press is publishing it. Love the book's title and wish I had co-authored it. Sounds like a mystery, but the book is way beyond that.
Big Drum Roll for The Enemies Within Us by Sharon A. Crawford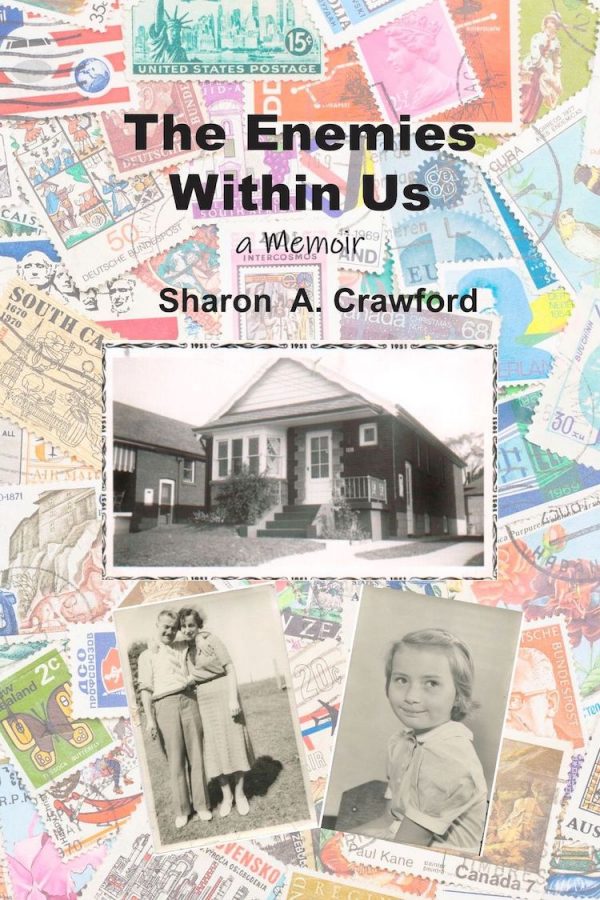 Beware not the enemy from "without," but the enemy from "within."
– Douglas MacArthur
We interrupt Dana's Intro for breaking news from Sharon:
Drumroll: The virtual book launch was a huge success. It was fun – lots of laughter and some seriousness as I read a few excerpts from The Enemies Within US – A Memoir and was in the hot seat answering questions from both my publisher and from guests. My shortest answer was "Finishing it." To find out the question and see the rest, here is the video link:
as I say on our Crime Beat Confidential TV show
Over to you, Sharon A. Crawford

.
Thank you, Dana.
The Enemies Within Us has gone through many versions and many titles over the past 18 years. Also there were many detours, such as writing newspaper and magazine stories, starting, and still running, a writing critique group, teaching writing workshops, editing for clients. But the biggies, that reeled me in to continue writing and rewriting my memoir were moving back to Toronto from Aurora, and particularly my family – past and present. The dedication in The Enemies Within Us says it all.
Dedicated to all of my family past and present– Mom and Dad, my son Martin and his partner Juni, grandparents, aunts, uncles, cousins. Family – eccentric or not – defines who we are. We may not all have gotten along; we may still be in flux. But that is the nature of families. I have learned and continue to learn much from all of you and am grateful for knowing you.
So, what is The Enemies Within Us about? Who are these enemies lurking within? The back cover summary might give you a hint.
"Your dad has cancer." Ten-year-old Sharon hears these words. Not from her parents. They lied. Set mainly in 1950s and 1960s Toronto, this  is Sharon's story before and after Daddy's dirty little secret surfaces. Before, she is Princess to her elderly father's King. He protects her, a shy only child, from best friend, The Bully. Sharon also deals with a bullying nun at school. She distracts herself playing baseball and piano, riding the rails with Mom and railway timekeeper Daddy, and visiting eccentric Detroit and rural Ontario relatives. After learning the truth, Sharon withdraws from Daddy. At 13, she teaches Mom to play the piano. Then Daddy gets sick again, and again…and dies.
Sharon A. Crawford's memoir is a powerful, sometimes humorous, account of a young girl's lessons learned from difficult teachers – bullying, betrayal, and cancer.
Mini Reviews
Sharon gently pulls the reader into her late '50s/early '60s childhood.We feel, alongside her, the security of a loving home and the tragedy of losing beloved parents, and we root for her as she finds an inner strength. 
—Sheila E. Tucker Author of Rag Dolls and Rage: A Memoir
Sometimes we learn about grief too young. Sharon Crawford grew up with a daddy who contracted cancer, and in THE ENEMIES WITHIN US, she takes us through what that was like with feeling, with wisdom, and even with humour.
— Brian Henry, Writer & Creative Writing Instructor
How is the story told? The memoir's Introduction provides a clue.

My present-day senior self meets my little-girl self. We join forces to tear apart what really happened growing up in Toronto, southwestern Ontario, Detroit, and New York City back in the 1950s, 1960s and early 1970s, especially when your Daddy "gets" cancer. To do this, we both contribute to the story. I invite you to walk backwards in time in our shoes—the little girl me and the senior me in The Enemies Within Us. (Copyright 2020 Sharon A. Crawford)
Photos and short chapter excerpts will appear  below on a rotating basis.
Photo below shows Daddy and me in the backyard when I was a toddler. This was before my girlfriends and I played with our dolls in the backyard and fed them a weird choice of doll food. It had an even weirder reaction from Daddy.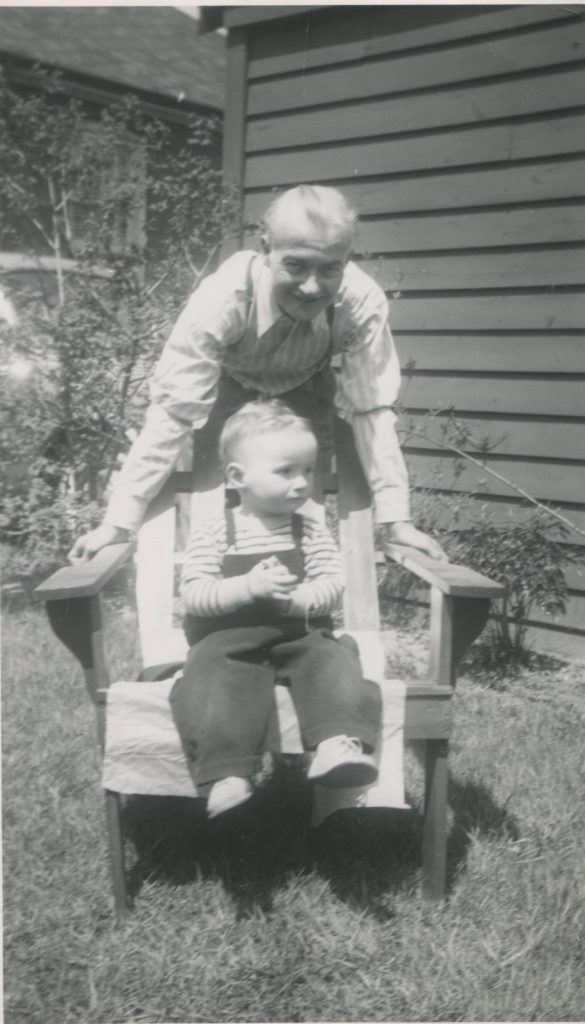 Chapter 2 – Practising Gardening and Religion
In the summer, my girlfriends and I play outside with our dolls. Give us green grass and trees, or at least big shrubs, and we are happy. We spread our blankets on the backyard grass, sit our dolls on top, stand up the open doll suitcases for a wall and hang their clothes inside. Then we set out our dolls' dishes and go hunt for dinner.
The raspberries, strawberries and tomatoes in mother's garden don't interest us. We are after the big green. Marie grabs a branch from the snowball tree over by the Swans' garage, and, one-by-one, picks off large velvety leaves. Dorothy, Jan, and I do the same and arrange the leaves on our doll plates. We pull some of the sharp pin leaves from the two small evergreens behind the house. We are just sitting down to dinner with our dolls, when Daddy comes through the archway. His stroll turns into a leap of rage.
"What are you girls doing? Stop picking the leaves." His face is red, and if he doesn't slow down he'll vault over the fence into the Swans' driveway.
The four of us stare at him, our mouths suspended open.
"Don't you know that you are hurting the trees?" he asks.
"Sorry, we didn't know," Marie says.
I say nothing. What's up with Daddy? We have to feed our dolls. However, our dolls' food now seems like poison. (Copyright 2020 Sharon A. Crawford)
Teaching Mom to Play the Piano
Excerpt from Chapter 14 –  Don't Look Down – Ever
I am pushing 13 and decide I can teach Mom, now in her mid-50s, to play the piano. Maybe I figure five years of learning Bach, Beethoven and Chopin on my pink roxatone piano provides sufficient credentials to instruct. Now that Daddy is back home and back to work, Mom and I are left with the aftermath of his life/death ordeal. Maybe we can use music to heal, even to survive during this supposed return to normal routine. Or perhaps it is a diversion before the inevitable.
So there we sit, Mom and I, side by side on the piano bench. A mirror on the panel above the keyboard reflects our fingers, perched to perform.
"A Car Eats Gas," I say to Mom as I point to the white keys—A, C, E, G—straddling the middle of the keyboard. "That's middle C," I add. I'm following the methods of my own piano teacher, Miss Garlick. (Copyright 2020 Sharon A. Crawford)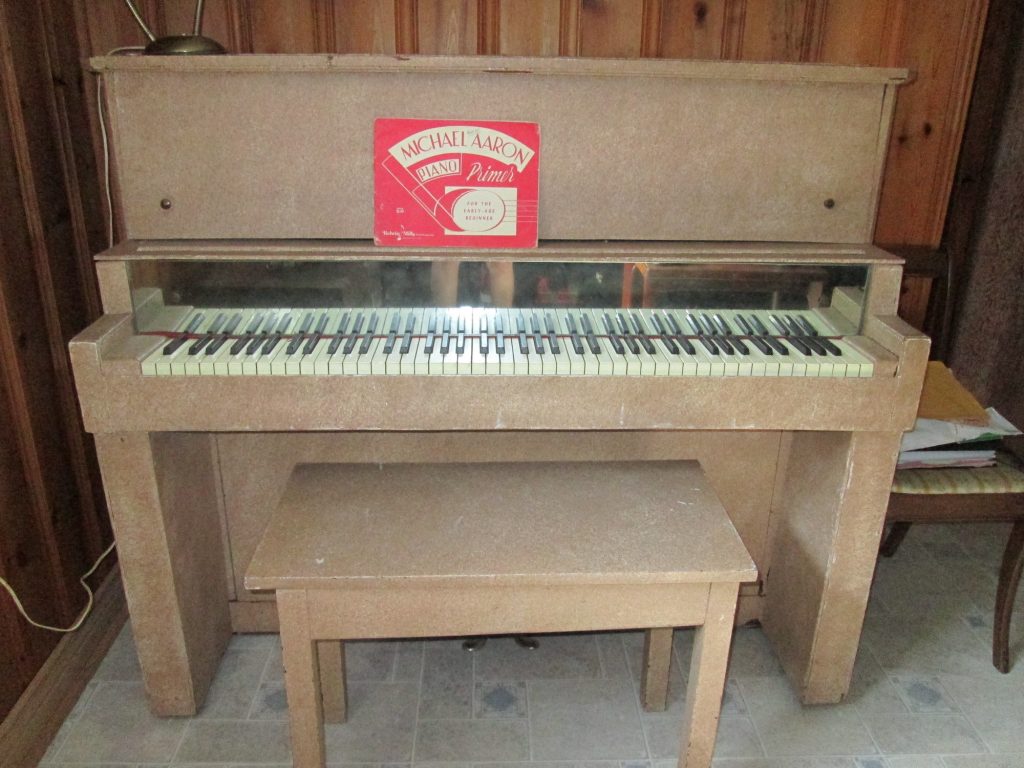 I still have that piano, down in the bowels of my basement rec room.  As you can see, it really is pink. The pink finish is called "roxatone."
copies of The Enemies Within US are available now at: