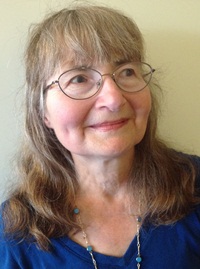 Sharon A. Crawford, a former journalist, is a freelance memoir and fiction writer, writing consultant/ instructor, blogger, book reviewer, editor and actor. She also hosts the online TV show Crime Beat Confidential on thatchannel.com. Sharon is the author of the Beyond mystery series, the short story collection Beyond the Tripping Point (Blue Denim Press, 2012), the novel Beyond Blood (Blue Denim Press, Fall 2014) and the newest in the series Beyond Faith (Blue Denim Press, October 2017. She belongs to Crime Writers of Canada, Sisters in Crime, The Toronto Heliconian Club, and runs the East End Writers' Group. Her hobbies: reading, walking and gardening act as catalysts for her books.
Writing
Author of mystery novel Beyond Faith, Blue Denim Press (fall 2017)
Author of mystery novel Beyond Blood, Blue Denim Press (fall 2014)
Author of mystery short story collection Beyond the Tripping Point, Blue Denim Press (2012)
Specialize in writing blog content, personal essays, memoir, op-ed, book reviews, and crime fiction (short stories and novels).
Experience
Writing fourth Beyond novel, short stories, memoir – book and essays, book reviews (current)
Co-authored a novella, Fire Underneath the Ice, with Rene Natan under the pseudonym R.S. Natanevin; published by Rogue Phoenix Press (2010)
Short mystery stories published in the Wordscape Anthologies, and Gathered Streams, published by Hidden Brook Press (2010)
Creative Non-fiction published in Wordscape Anthologies, New Senior, Gathered Streams (2010)
Revamped the newsletter for a University Women's Club branch, which included design, coordinating material, editing, and profiling club members (1997-1998)
Book Reviews published in Quill & Quire, The Prairie Journal, Other Voices, Canadian Writer's Journal, Catholic Register, Sources (1990-2013), and on Goodreads.
Poetry published in Matrix, Beaver Canadiana, Topic, Era/Banner, Phoenix Rising, Richvale Writer's Words Dance, and Women's Household (1980- 1997)
Feature articles published in newspapers and magazines, such as Toronto Life, Toronto Star, Globe and Mail, The Country Connection, CheckUP, Vitality Magazine, Alive, Forever Young, Mature Lifestyle, Canadian Grocer, Career Choices, Centre of the City, Optical Prism, cbc.ca, Best Health, and community newspapers in York Region (1976-2012)
Writing, Editing & Consulting
Specialize in: working one-on-one with authors including tutoring, manuscript evaluation, book proposals, query letters, supplying marketing information.
Areas covered: fiction (novel and short stories), memoirs, essays, health (alternative and mainstream), crime, business, and humour, new age spiritual.
Experience
Organizing Author Readings/Presentations for Crime Writers of Canada (2013-2017)
Book promo – online and in person – for the Beyond mystery books (2012-present)
Copy editing and manuscript evaluation for individual clients (1997-2017)
Full-time proof reader, Canada Law Book (1990-1997)
Associate Editor Canadian Writer's Journal (1990-1996)
Teaching & Speaking
Instructor of the Making Words Sparkle Workshops
Specialize In: Memoir, Fiction (Short Stories, Novels, including writing specifics – plot, characters, point of view, setting, voice, stuck in the middle), Crime Fiction and Freefall Writing.
Experience
Writing Workshop Instructor for
Toronto Public Library (2010-present)
Writer-in-Residence CAA Toronto (2009-2014)
East End Writers' Group (2005-present)
Canadian Authors Association (1994-2014)
Author readings  at Chapters, The Idler, The Madison, Bar Italia, Toronto Writers' Centre, Canadian Authors Association (Toronto), and Richvale Writers; solo and with Crime Writers of Canada at various library branches in Toronto Hamilton, and York Region,  Ontario Du Café, Q Space, Red Rocket Coffee house (2000-present)
Workshop organizer for CAA annual conference (2000)
Speaker/panelist/ for organizations such as Editors Canada, Richvale Writers, Canadian Authors Association, Get Work Network, PWAC, Word on the Street (Toronto), Bloody Words, Crime Writers of Canada, East End Writers' Group (1999-present)
Professional Organizations
Member of Crime Writers of Canada, Sisters in Crime, Toronto Heliconian Club (current)
Founder and facilitator of the East End Writers' Group (2000-present)
Awards
Blog Only Child Writes winner of ABC Blog Content Award (2012)
Second Prize poetry Contest Phoenix Rising (1981)