Half my life is an act of revision
– John Irving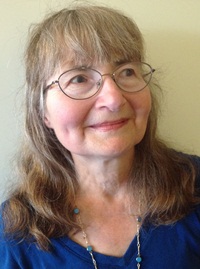 Creativity, organization, juggling time and years of experience make Sharon A. Crawford an excellent writer, writing instructor and consultant, editor and blogger. Check her credentials, comments, and other criteria.
Latest News
East End Writers' Group returns to regular writing critique May 30.  7p.m. to 9 .45 p.m. with another presentation June 27 – Muskie and Murder featuring Michael Robert Dyet and Sharon A. Crawford. More info here.
Workshops and Courses: Sharon A. Crawford has added a new workshop and a new course she teaches. More info here.
Editing and Manuscript Evaluation: Sharon A. Crawford welcomes new editing clients. Specializing in manuscript evaluation of books, novellas; and copy editing short stories, personal essays and articles. More info here.
Beyond Faith is here and…
on You Tube where Sharon is interviewed about Beyond Faith and the Beyond gang by Hugh Reilly on Liquid Lunch
And here at the beginning of her reading from Beyond Faith at SinC Toronto. This time PI Dana Bowman is confined to a photograph Sharon is holding.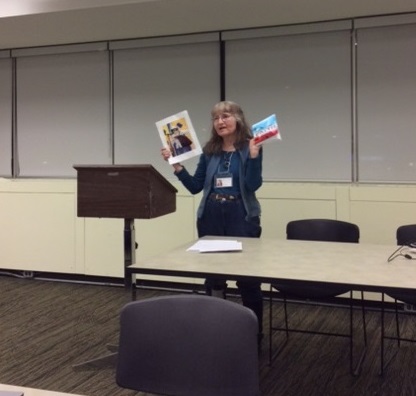 Another SinC reading photo is on the Beyond Faith page. Scroll down the page.
And also here at the Ontario Librarian Association convention February 2 at Metro Toronto Convention Centre (Hint: Channeling PI Dana Bowman)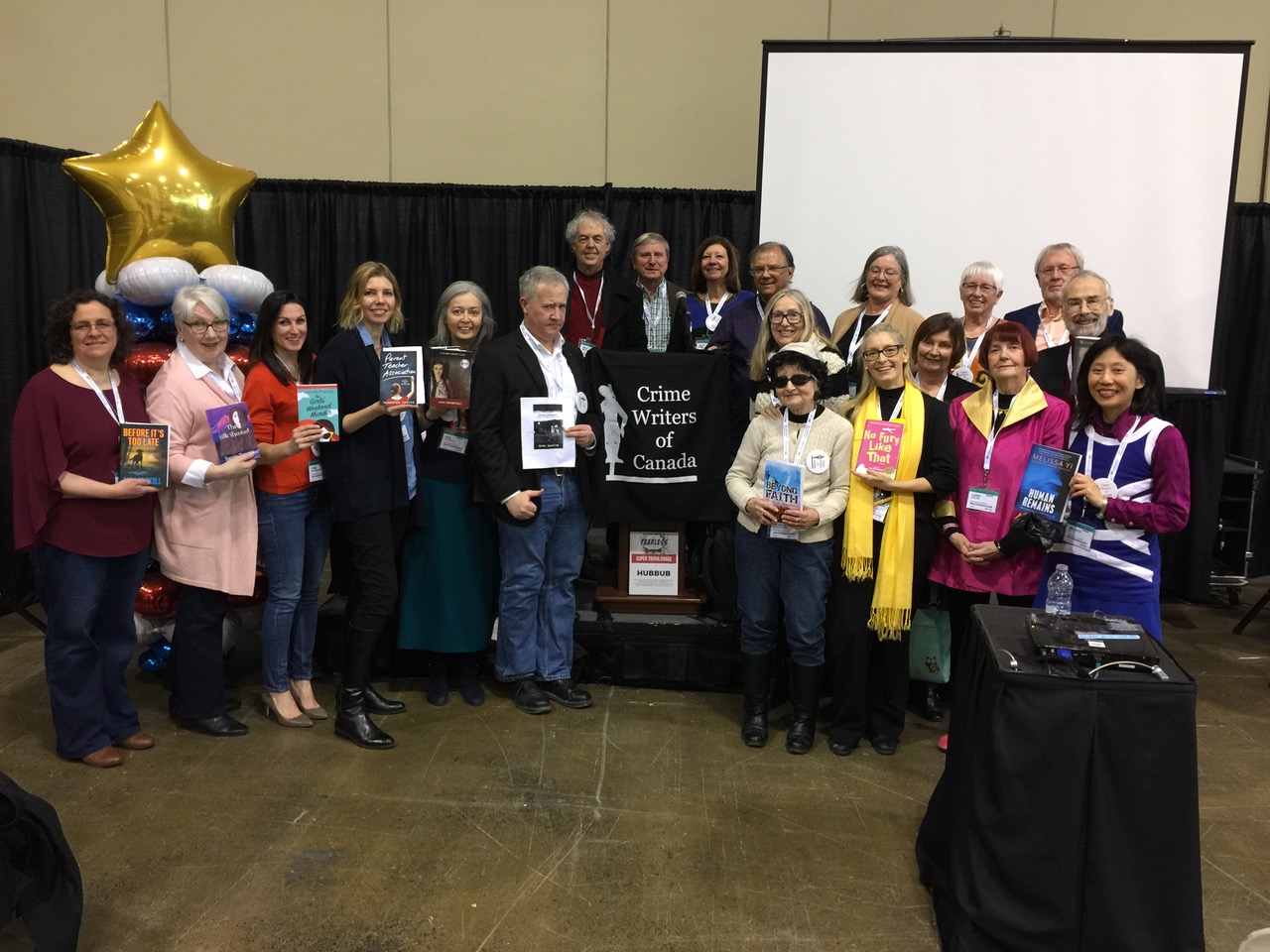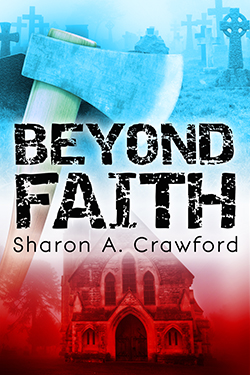 Beyond Faith offers secrets, lies and death with a connection to the Catholic Church, set in small-town and big-city Ontario. It's a great story with a great pair of unlikely protagonists (a brother-sister pair of twin investigators), twists, surprises and Sharon Crawford's distinctive tone and shining dialogue. Recommended for any detective-story fans yearning for Ontario-based tales.
– Nate Hendley, true-crime author (Steven Truscott: Decades of Injustice and The Big Con)
Check out the new Beyond Faith page. Sharon A's Gigs are now listed on this page as well as links to Amazon and Chapters/Indigo and Sharon's author blog. For events, scroll down past the Crawford and Bowman profiles

And
Watch for the monthly Beyond newsletter coming soon. Stay tuned.
And talks about editing and writing with her colleagues:
Sharon A. along with Ali Cunliffe and Susan Viets spoke and entertained on a panel about self-publishing from authors' and editors' perspectives. Panel was held by the Editors Canada and the video of it all is on You Tube
Recent Past Events:
Book Launch for Beyond Faith at Supermarket, Sunday, October 22, 2017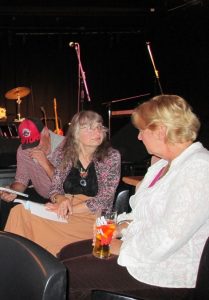 Beyond Blood and Beyond the Tripping Point were at Word on the Street Sunday, Sept. 24, 2017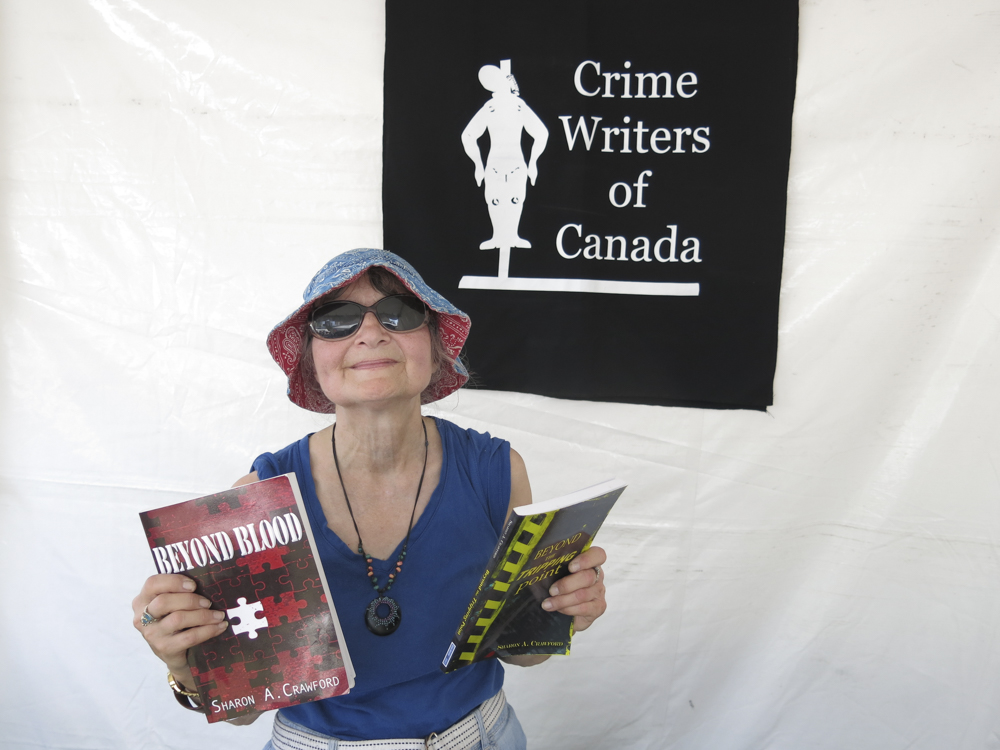 Sharon A. holding up the first two Beyond Books – Beyond Blood and Beyond the Tripping Point. Photo courtesy Lisa de Nikolits author of No Fury Like That 
See and hear Sharon A. being interviewed about Beyond Blood on the Liquid Lunch
Sharon A. along with Ali Cunliffe and Susan Viets spoke and entertained on a panel about self-publishing from authors' and editors' perspectives. Panel was held by the Editors Canada and the video of it all is on You Tube
Sharon A. and four other Crime Writers of Canada authors packed them in for their crime (writing) presentation at Gerrard Ashdale library in Toronto, March 24, 2016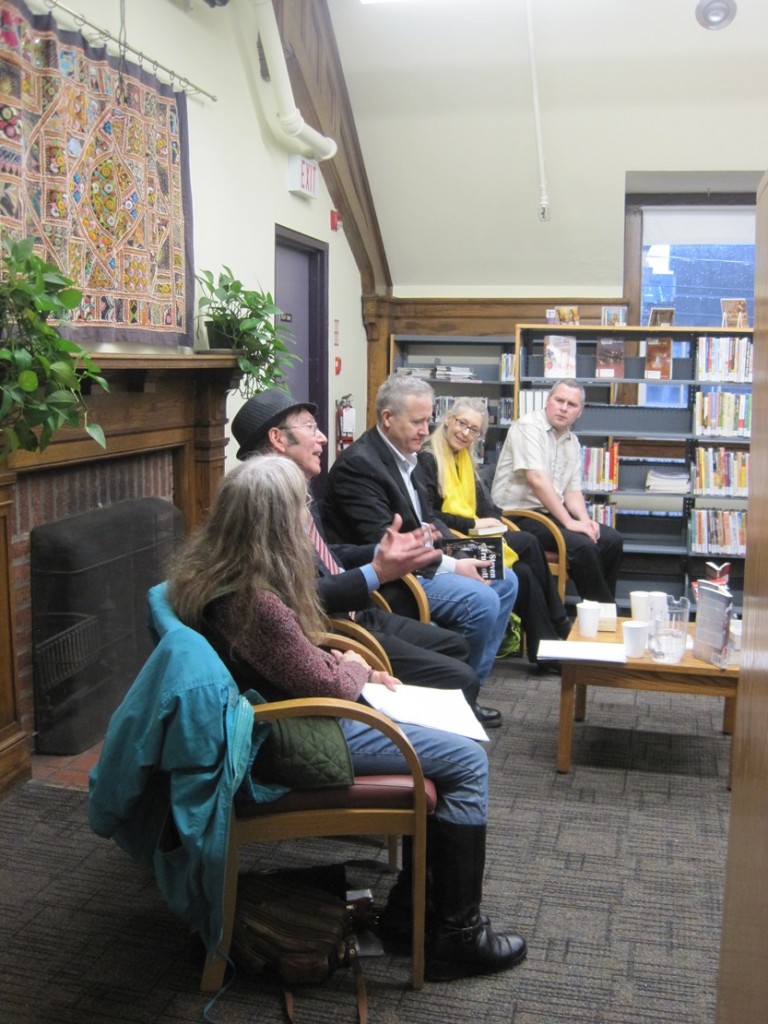 Sharon A. Crawford's Blog
Sharon A. Crawford author
A fine WordPress.com site
Beyond Faith on the PR road again
Beyond Faith continues in person appearances – the next one is with my writing colleague, Michael Robert Dyet. Our books were published by the same publisher (Blue Denim Press) and launched the same date last fall by Blue Denim Press. So Michael and I are doing some joint (and not the weed kind either) […]
Posted: June 21, 2018, 6:12 pm
Getting story ideas from your neighborhood
In the last post I talked about getting story ideas from your garden. But here's another story source – your neighborhood. Maybe the house down the street is a marijuana grow -op ( there was one kitty-corner across the street from me a few years ago. Unfortunately I was out when the police raid went […]
Posted: June 7, 2018, 5:32 pm